Happy James Bond Day, ladies and gents! While the rest of the world is already able to sit in theaters and watch Craig's swan song, we have to wait just a couple more days from seeing this long-gestating chapter hit the big screen. While the latest addition to the Bond franchise leaves an open door for whoever dons the tux next, one does have to wonder – if No Time To Die comes close to being the best Bond film, what exactly is considered to be the all-time best Bond flick?
How do I put this? As much as Daniel Craig has become one of the best actors to portray the iconic character, the best film in the near 60-year old franchise isn't starring any of the bigger names. Not Connery nor Moore. Not even Craig himself. Rather, the best entry came in 1969, following Sean Connery abdicating the role. Aussie George Lazenby may not have been the right Bond, but he sure had the the most perfect movie – and that's what tops the list, to this writer, as the best entry in this storied franchise.
On Her Majesty's Secret Service
Directed by Peter Hunt
Written by Richard Maibaum, additional dialogue by Simon Raven
Starring George Lazenby, Diana Rigg, Telly Savalas, and Gabriele Ferzetti
142 Minutes
Reber's Rating: A+
OHMSS is truly the only film in the franchise that has a spirit closest to Fleming's novels. Others come close, but not as close as stalwart Richard Maibaum's script, sticking beat-by-beat with Fleming's source material. Standing apart from the previous five films, Peter Hunt's film is a delicate balance of scale, with action and romance and tragedy, a caliber that many action films lack both then and now. Lazenby's debut focuses on Bond being burnt out in his pursuit of Ernst Stavro Blofeld and, after being removed from the case, taking a leave of absence. But in that leave, his romance with the rebellious Contessa Teresa "Tracy" di Vicenzo crackles to life. Her father Marc-Ange Draco, who heads a crime syndicate, offers Bond a compromise – court his daughter, Draco will find out where Blofeld's hiding. Can Bond balance his dedication to both duty and romance – and still be able to save the world?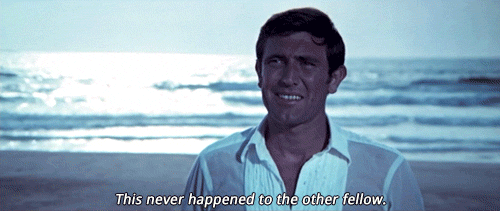 OHMSS is the one film that Sean Connery wished that he'd gotten to do, but was never given the chance. Lazenby's sole contribution to the franchise almost exists entirely on its own, acknowledging that the past missions had occurred but almost omitting the events of 1967's You Only Live Twice. This is Bond at his literary roots, a cold-hearted bastard who takes his job seriously with a steely gaze and dashing demeanor, ruthless and clever with a splash of wit. He doesn't like to be told when to stop and doesn't know when to back down either. Lazenby's approach was a bit more grounded and down-to-earth, rather than Connery's quick-witted man of action. Lazenby was the opposite of Connery's take on the character and, for a film adhering to Fleming's novel, that was necessary.
The fight sequences, which are plenty, have a whipcrack intensity that rivals most films in the franchise and, to this day, has a brutality that stands as some to ever grace the big screen. The editing by future Bond director John Glen cuts the scuffles so tight and frenetic, you can almost sense the impact of each blow. The love story between Bond and Tracy has a naturality between the leads, making their story engaging and allowing the viewer to see their relationship blossom throughout the film. The finale is absolutely breathtaking, a whiz-bang tour-de-force edited taut and frenzied, throwing you into the midst of the action as all parties clash atop a hideaway in the Swiss Alps And the parting shots of the film still stand as the heaviest that have graced the franchise, nary other genre flicks, to this very day. This is Bond at his most serious, his most delicate, and his most emotional.
The only problem with OHMISS is Bond himself. Lazenby was an Australian model who had the look but not the acting pedigree when he won the coveted role. And anyone following in Connery's footsteps certainly would have big shoes to fill. Lazenby certainly had the look but not the charisma. Though the Australian had the intensity to handle the role, Lazenby didn't necessarily have the charm. Some of his scenes with the other leads occasionally feel clunky and uncharismatic. Lazenby does at least shine when sharing the screen with Diana Rigg, with a chemistry that feels genuine, their aversion for each other warming into something more organic and earnest. Lazenby also clashes spectacularly with Telly Savalas' Blofeld in the scenes they share together, chewing dialogue in their apprehension of each other's worldly views.
Lazenby's tenure as Bond was over just as his run began. Lazenby opted out, stating that he didn't wish to carry on with the mantle and thought the franchise wouldn't last. (OHMSS was a massive hit, despite British tabloids trying to decry the depature of Connery.) Audiences weren't ready for a Bond that was brutish, arrogant, and cerebral at the time. Once Craig's era began in 2006, that would be an entirely different story. OHMSS remains the only Bond film that wore its source material proudly and has gone on to become arguably the finest of the franchise, even to this very day. Many decried OHMSS as a flop but, in truth, was the second highest grossing film of 1969. Had Lazenby ignored the suggestion of his agents, he may have hung on for a couple more films and taken the franchise in a more grounded direction. Audiences just weren't ready back then for something this austere.
The Rest of the Top Five Best Bond Films
Casino Royale – Reber's Rating: A+
Goldfinger – Reber's Rating: A
Skyfall – Reber's Rating: A-
From Russia With Love – Reber's Rating: A-
And I hope you're ready, kiddies – No Time To Die is ready to drop into our laps. Will this be Craig's finest outing yet? I suspect yes. But will NTTD be able to dethrone OHMSS? Both films seem like they're companions to each other spiritually – but we'll see for ourselves in just a couple of days. Until then, settle in and prepare. Bond is back for his 25th adventure after a long one-and-a-half year wait.