A week ago, I made a grim projection that Eon Productions/MGM's upcoming No Time To Die, the final outing for Daniel Craig in the title role of James Bond, could be displaced from its Easter weekend release date and sometime into the fall. You know, because the COVID-19 pandemic is worsening again. Sometimes, I wish I knew when to keep my mouth shut.
Granted, take all of this very lightly, as both MGM and Universal have not commented on this leak as of yet. Dutch site BN DeStem is reporting on a leak from Dutch exhibitor Carlo Lambregts, stating that MGM and Universal are looking to bump No Time To Die yet again from April all the way to November. Other rumors suggest that promotional partners on the latest Bond entry were advised of the possible move to autumn as well, as they'll need to plan marketing campaigns accordingly. For now no new date was given, but November is already very crowded with other tentpoles scheduled for release.
Late last year, MGM did screen the movie for streaming services that were interested in purchasing No Time To Die. However, with a price tag of $600 million on the table, no one bit at the offer. Netflix and Apple both balked at spending that kind of dough. Though Universal is the worldwide distributor on the film, simply releasing the film onto video-on-demand would be deemed a huge loss for Craig's final go as the titular spy. MGM also knows No Time To Die is going to earn a ton of money – after all, both Skyfall and Spectre grossed over $1.9 billion collectively – and the studio remains steadfast on releasing this into theaters globally.
I believe the below GIF perfectly encapsulates the feeling many movie fans the world over have right now. A third delay was inevitable, given the worldwide popularity of the franchise at the box office. A film with a budget nearing over $300 million, including marketing and promotions, has to make money back somewhere. Based upon early word-of-mouth from those who've seen the film, the wait will ultimately be worth catching No Time To Die in theaters. However, that wait will have been two full years since the film completed filming.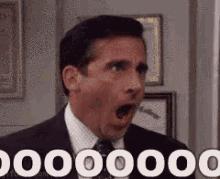 This also just means that Fandomize's Countdown To No Time To Die will now become a weekly series and delve deeper into the films of the franchise. So stayed tuned for more on Bond. I digress.
The plot, as described by Universal Pictures, says that "Bond has left active service and is enjoying a tranquil life in Jamaica. His peace is short-lived when his old friend Felix Leiter from the CIA turns up asking for help. The mission to rescue a kidnapped scientist turns out to be far more treacherous than expected, leading Bond onto the trail of a mysterious villain armed with dangerous new technology." Directed by Cary Joji Fukunaga from his own script alongside Neal Purvis, Robert Wade, & Phoebe Waller-Bridge and starring Daniel Craig, Ana de Armas, Rami Malek, and Lashana Lynch, No Time To Die will release at sometime in 2021.